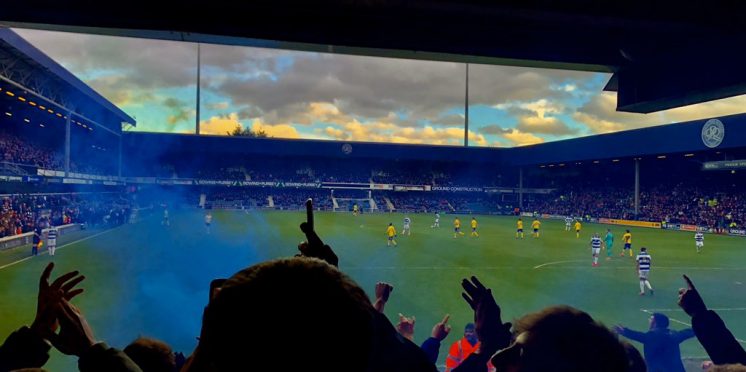 Pep Clotet's side extended their unbeaten run, in all competition, to 12 games with a gritty 0-0 draw at The Den. As we journeyed on, it was a week of more away days that lay ahead for the boys in royal blue. And it was two very different prospects, for both the fan experience and the game of football.
First up was a Saturday, 3pm kick off in the capital city against QPR. When it comes to away days, there's nothing like London for me. Although you may be able to get 4 pints, and change from a tenner, at the 'Spoons in Rotherham, it simply doesn't cut the mustard (nor the Henderson's Relish).
New Street to Euston in under 90 minutes means there's plenty of time for fans to whet their appetite for the game that lies ahead, whilst wetting their taste buds with a crisp, cold pint. QPR, who sat one place above Blues in the league, was a match that fans looked at with rose-tinted glasses. This fixture in the previous season left us blue-noses with memories for life as a 4 goal lead was under threat in the 93rd minute before Lee Camp stepped up and saved a penalty, securing the 3 points.
It looked like another victory could have been on its way as Hogan netted (shock) mid-way through the first half. The sun was shining, the Blues faithful, of just over 2,000, were in full voice yet again (a noise I'm sure could have been heard from way past Shepherd's Bush). All was right with the world.
But just as things were, almost, going too well, a bit of dodgy defending from Kristian Pederson early on in the second half left Pep's Blue Army 2-1 down by the 55th minute; the 4-0 lead of 2019 became a distant memory. Who else to save the day but Scotty Hogan with yet another goal (his 6th in 7 games). The game ended 2-2, which was probably a fair result. But despite the relief of extending our unbeaten run to 13 games, I couldn't help leaving Loftus Road feeling somewhat aggrieved with a late, stone-wall, penalty shout not given to us (again, shock).
We go again.
Next up was a mid-week journey on the road to Leicester. Sitting comfortably at 3rd in the Premier League, this could be tough. The build up to the game came with some sort of hope as The Foxes' top scorer, Jamie Vardy, was ruled out with an injury; an injury that helped Norwich to orchestrate a victory over them on the weekend before our visit. However, Blues fans were left disheartened by the news that starlet, Jude Bellingham, wouldn't travel as the Boss announced he was being 'rested'; a notion that left many fans curious, with a 5th round FA Cup tie being arguably more important than the upcoming league match against Reading. Some reports mentioned that Jude was out with concussion, but this wasn't confirmed.
The day came, a short drive in rush hour traffic, and we were there. There wasn't the luxury of hitting the dazzling Kensington bars this time round but the King Power definitely dazzled more than the R's, somewhat rundown, stadium did. Despite many fans missing the first 5 minutes, still being searched whilst entering the ground, the noise was quite something. You know you've turned up in numbers when two sections of your support are singing different chants at the same time.
The Blues performance was epitomised by Maikel Kieftenbeld. On his first start since a cruciate ligament injury left him on the side line for a year, big Mike was back doing what he does best; chasing down Leicester's midfield like a hound dog and putting in some very strong tackles. It was like he was never gone. Although the Small Heath Alliance stayed organised for long spells of the game, they fell short to a late header from Ricardo Pereira. We won't talk about that last minute Montero throw in and whether it should have gone straight into the box or not (it definitely should have). In spite of this, I think the majority of Blues fans left the King Power Stadium with their heads held high, proud of the team they travelled to support.
Next up, we face a home fixture against Reading, who sit one place below us in the table. The unbeaten run still continues in the league. There are now just 10 games left of the season to show who we are and what we can do.
As always, we keep right on.
---