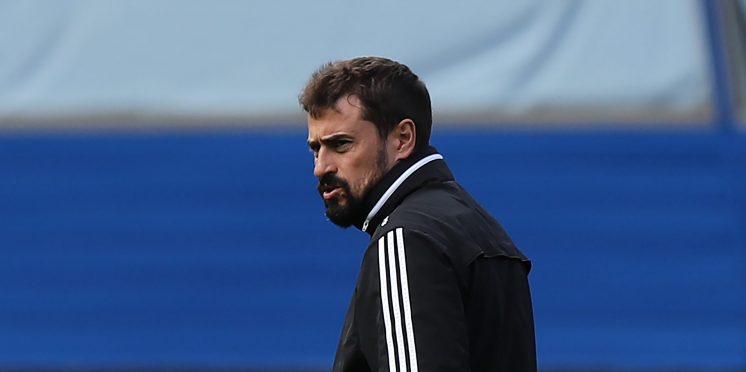 Can Pep steer the off-course ship away from danger?
As the season re-opened Blues were "More or less safe from relegation".
The threatened points deduction by the EFL had come to nothing and Blues were looking comfortable, just…
With these words of 'safety' echoing around an empty stadium, one couldn't help thinking how Pep Clotet had continually sung the praises of our fans who give us a massive boost. While we were benefiting from the boost of 18-19000 fans we managed just one win in 11. What then could we expect when those fervent fans that were banished to their armchairs and could not roar their favourites into action?
Being "more or less safe from relegation" it was decided that we could do away with players at the end of their contracts. With 4 players out through injury, having not been near a game of football for three months, the wisdom of that clear out is questionable. It's great, mind, to have local youngsters in the squad, between 7 of them they have only performed for a total of about 20 minutes. In reality, we are playing with a 14-man squad. Three games in 11 days has led to a very tired looking team.
Three players who were out on loan were supposed to bolster our squad but for some reason they have not featured. More conflict with the EFL and we can't use these players.
As we were "more or less safe from relegation" the manager announces that he will be leaving. If anything is sure to demotivate a team, that is the announcement that the manager is leaving in eight games time. We have played the three most out of form teams in the division in the form of Albion, Hull and Huddersfield.
Blues have taken just two points from a possible nine and failed to score in two of them. The performance against Huddersfield was dreadful. Where on Saturday, the team at least had a go and scraped a point, Wednesday was a different story as the heads went down after 10 minutes and Blues simply got worse as the game went on.
Put yourself in Pep's position for a moment. What would you have said to the players who have taken part in three winless games? Pick one out of a dozen or more whose performances have been woeful. What would you say? "You are lazy, you aren't trying, you are too slow, you couldn't pass water?"
Whoever you chose to bawl out, humiliate or whatever, they would simply say "Listen boss, I ain't quitting, I'll be here next year, probably with a pay rise, so b*****ks!".
We have now put ourselves in the relegation battle and we are the team with the poorest form in the division. On this form we can only expect another 4 points and 53 will not be enough. Before Wednesday's game Wigan went into administration. This should cost them 10 points and put them bottom of the league. However, that is not guaranteed and even if they are deducted, Blues would still find it hard to stay above them.
"Birmingham City, I am sad to say are in a very parlous state"; so said Ken Wheldon when he took over the club in 1983." Mr Wheldon was considered at the time to be an appalling chairman. History seems to be repeating itself. Ron Saunders was removed as manager and was one of the best we ever had.
Pep Clotet is not in that bracket. He is a good man and a decent coach but whoever has generated the situation we now find ourselves in, needs to act now. Pep cannot manage the team in the current situation and whether he has been pushed or not, his replacement should be in there now.
---
---