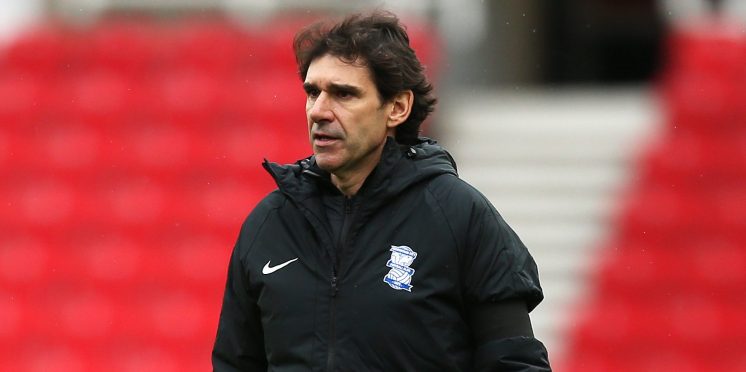 So, the first league loss of the Karanka regime has happened – and it wasn't with a bang, it was with whimper. That might even be too polite. For 75/80 minutes of the game against Sheffield Wednesday, Blues were in no way competitive – poor passes, no running off the ball. Aitor Karanka said himself after the game that "the lack of intensity, especially in the first-half was disappointing. It was difficult to attack and it was difficult to defend when you don't have the intensity you need it's difficult to do everything." Blues looked devoid of all ideas, were poor and we rightfully deserved to lose that game.
Doom and gloom settled in on social media and there were quite a few downbeat comments, and after that performance who can blame the fans for feeling down and disappointed. I felt the same. But, in general there is plenty to feel positive about. Here are some reasons why.
Now, I know going forward we don't look great and that scoring looks to be an issue – but that is not the focus of this article.
The Defensive Situation
I think we can all agree that last season, by and large, the Blues defence was awful. Blues chopped and changed keepers. It never looked like the defence was solid or trusted each other. Fast forward a season and that has changed. Defensively we look very solid. We have a strong keeper who looks in command of his area and his back line. That back line looks unbeatable at times and we have only conceded 3 goals this season – 2 of those being penalties and one being heavily deflected. Blues had conceded over double that in the League this time last season. The addition of Etheridge and Friend has lifted Dean's game massively and he is starting to look like the defender of a couple of seasons ago, rather than the Dean we saw last term.
Karanka's first job when he came in was sorting the defence and stopping us conceding a bucket load of goals and he has done just that. The addition of Clarke-Salter will only shore up the defence further.
Team Spirit
Karanka seems to have instilled a real spirit in the squad. They fight for each other. They chase back and fling themselves in the way of goal-bound efforts. This spirit was completely gone by the end of last season. You could see it in the players and the way they played. You could even see it in the coaching staff. There is a real togetherness about this squad and that is essential in this league.
Squad, Squad Depth and Players
I don't have to tell you how much business Blues did this summer. There were some real quality signings and most of them incredibly cheap or free. This has allowed Blues to develop something they have painfully lacked over the last few seasons – depth in the squad. Blues have approximately 2-3 players for each position. Given the amount of games in the Championship season, this is absolutely one of the most important things to have and Blues have it in spades.
Alongside the depth, Blues also have the experience. 90% of the Blues squad has had at least a season at Championship level or higher, which once again will prove important. The Championship is one of the hardest leagues in the world and to have that experience in the squad will prove invaluable. It will also help players like Sanchez and McGree who haven't played at this level before to adapt and improve.
Blues have also got some fantastic players in the ranks. Ivan Sanchez has hit the ground running and looks an absolute steal for free. His set pieces alone are dangerous, let alone when he has the ball at his feet and is running at defenders. Adam Clayton and Ivan Sunjic looked to have a real partnership beginning as holding midfielders, and this has allowed Sunjic to show more of the player he is this season. Dean and Friend at the back are forming a formidable partnership, with Etheridge behind them. Blues beat off competition from several clubs for these players and the reason that Blues wanted them is that they are good players who have elevated the club and squad.
The Youth Setup
Blues have a great academy and some exciting youths on their way through the system. I know that a lot of Blues fans were surprised Odin Bailey was loaned out. I, too, thought that Bailey was set to break into the first-team this season. Obviously, Karanka has other plans and he has ended up back on loan at Forest Green Rovers. But this may be much better for Blues than it would at first appear. Bailey is going to (hopefully) be playing first team football on a consistent basis. This will be much better for him than occasional appearances from the Blues bench. As it will for all of them – there is nothing like actual match experience. It will prepare them all far better and benefit Blues the most when they return from their spells away from the club.
Patience – it will come
That heading says it all really. There is a reason Karanka got 'Boro promoted. He knows what he is doing and as he said at his unveiling to the media, this is a project. Not a quick fix. The goals he has set and been set are all long-term. It will take time for everything he wants to bed in. Remember, he has come into Blues following that horrendous end to the season, , where the mentality and confidence was so shattered from the season before and had no real pre-season with the squad. He has managed to take Blues from one of the leakiest defences in the league to one of the most solid. Blues are one of just five teams that has conceded 3 or fewer goals so far this season. Most Blues fans would have snapped someone's hand off for that amount of goals conceded after the end of last season. Blues have also lost one game from five – another stat that I am sure Blues fans would have laughed at following the end to last season.
I really do think that Blues fans have a lot to feel positive about. We have a quality manager and a fantastic squad. Once Karanka has got the team playing the way he wants to play, the formation sorted and everyone brimming with confidence you will see a different Blues team and performance, I am sure of it.
---
---