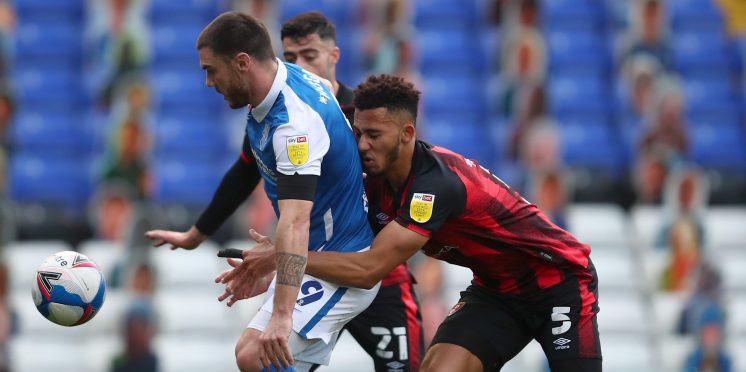 Hogan speaks out after long awaited goal
Since making the transfer from rivals Aston Villa this summer, Scott Hogan failed to score in his first 6 appearances but managed to break his goal drought at the weekend with a glancing header past the keeper against Bournemouth on Saturday which ultimately proved to be consolation in a game that Blues lost 3-1. As any Blues fan will tell you, on his day, Hogan is a dangerous striker and he proved his goal scoring ability netting 6 goals in 7 games in February and grabbing the championship player of the month along the way. In a recent interview, he spoke about his desire to score at Blues and below we take a look at some of the comments.
Hogan said "It's just been a waiting game," and "I've come in this season and I'm probably just getting match fit.I've had no pre-season, the gaffer knew that bringing me in, but he was quite open with me and didn't care as long as, given time, I would get going." Scott Hogan was one of Aitor Karanka's 11 signings in the summer. He then went on to talk about his past form saying "The goal obviously helps and hopefully I can kick on now but I don't want a run of goals, I want consistency. I've always been able to do it consistently in the past when I've been played regularly."
When speaking on the team he said "Obviously there are bits we need to work on but that's going to come with time," he added. "We hadn't scored from open play for some weeks but we're creating chances now and a lot of chances as well." He then discussed the 3-1 defeat but remained positive. "Nobody likes losing a game, but the lads can feel better talking about what we could have done better instead of sitting with our head in our hands and it's all doom and gloom. We've lost a football match, it happens, so we've just got to keep going. The belief and spirit is there."
He then concluded by looking forwards to the rest of what he hopes will be a successful season for the boys in blue. "We've got a great bunch of lads who work hard for each other. In training it's last ditch tackles on the line and even on a lighter day lads are diving in head first. Everything is about fighting together and the coaches are coming around saying the spirit is incredible. We've got the basics in order in terms of our effort, discipline and our fight and we back each other on the pitch. The more we play and train together and the gaffer gets his ideas across, we are going forward without a shadow of a doubt."
No doubt Blues fans will be eager to see how Hogan presses on after the international break and they will be keen to see him re capture his pre-lockdown form and terrorising defences. There is no doubt that Hogan has talent, let's hope he can find the net a few more times this season.
---
---