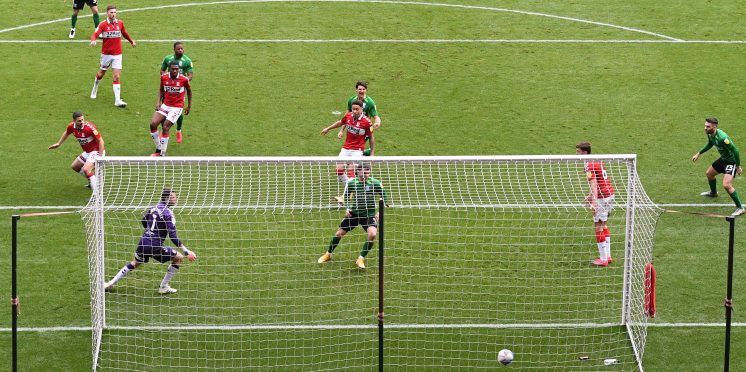 Match Report: Blues get back to winning ways
What a performance! What a result! A much needed 3 points to take back to St Andrews. Blues became just the second team all season to beat Boro on their own turf, a nice change from the 4 – 1 thrashing at St Andrews. Not many people gave us any chance today but I just had that feeling that we were going to take that second half performance against City into this one.
Blues were the side with the attacking mentality and were on the front foot right from the start. Middlesbrough were happy to let Blues have the ball and after 15 minutes Blues had averaged 73% of possession, albeit, without doing much with it. Blues were stringing some nice one touch passes together and then it finally clicked. Sanchez did what he does best and cut inside drawing the Boro defence to him and leaving Colin completely free on the right of the box. A lovely backheel from Sanchez to Colin, a lovely low cross and a composed finish from Scott Hogan. After the match, Neil Warnock complained that Sanchez shouldn't have even been on the pitch after an incident with McNair. Sanchez was clearly fouled and in the aftermath they both had a go at each other. I have watched it back several times now and I don't even believe it warrants a yellow.
In recent times, corners have caused a lot of problems for Blues and this game was no exception. Chuba Akpom headed the flick on onto the underside of the bar and luckily Etheridge was able to grab it on the line. Perhaps even more fortunately was that Toral who attempted to stop it with his hand missed it which would've resulted in played an hour with 10 men and we would've potentially gone 4 – 1 down again. It was most likely the heat of the moment that got to him as logically it is more beneficial to take the goal and play an hour with 11 then go down to 10 men for an hour as well as conceding a penalty.
Blues were on the front foot in the first half but in the second half it was a much more defensive performance as Roberts came on to secure the defence and with it the three points. Boro didn't create many chances against Blues second half and the ones they did create were well dealt with. I was watching on BluesTV and I don't think Kieftenbeld was mentioned until around the 65th minute. Dutch Mike had a brilliant game in midfield. He does the dirty work and he does it very well. He put in some good tackles and I don't remember him misplacing a pass all game. Etheridge didn't have much to do but when he did he made sure he did it well. He made a fantastic double save from Watmore and Tavernier with just 15 minutes to go which ensured the three points would return to the West Midlands. Blues did a brilliant job at keeping Britt Assombalonga quiet throughout the second half when he came on. Time after Time Assombalonga nets against Blues no matter the circumstances but he was only allowed once chance right at the beginning of the second half which he put wide, although, on another day that would've probably been a goal.
I said after the City game that our next three fixtures are very important to make sure we push away from the bottom three. Next we play a very out of form Preston at St Andrews. Blues must use this game to get another valuable three points and a much needed win at St Andrews where we are winless since late October and we must put an end to that run.
KRO
---
---