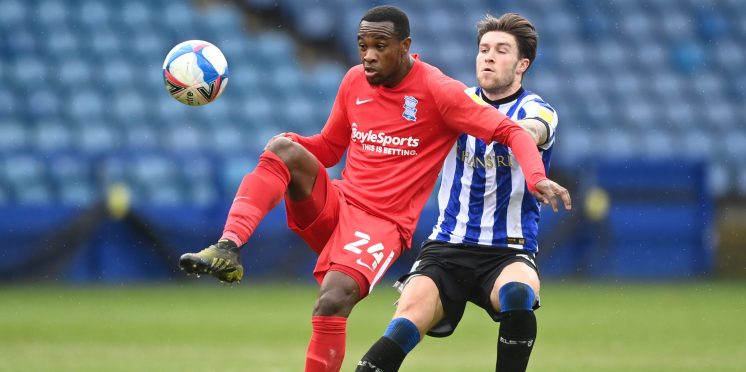 Karanka needed a lifeline, a lifeline that will keep him going
Aitor Karanka needed a big lifeline and he got it, just about. The encounter with Sheffield Wednesday was looking as if it might peter out into another goalless draw, but Karanka's men needed that ammunition and help.
The first half hour was nervy and anxious, with both teams looking frightened and uncommitted. But Blues saw their luck turn in the second half. They had another spring in their step when Liam Shaw was sent off five minutes in.
Blues have had little luck recently and it felt about time for Sheffield Wednesday's improving form to come to a halt. Blues looked more adventurous after the sending off and Karanka would have been clutching on straws had his side not taken advantage of a great position to go and get the three points.
Suffice to say, Karanka had duly helped himself by naming a useful line up. With Jeremie Bela perfectly delivering for Scott Hogan to tuck home, you do wonder why Karanka had dispensed with the Congolese and Sanchez in the defeat to Millwall.
Hogan has his seventh goal of the season and it's about time that some of his goals meant something. On a hat trick at Bournemouth, but all that was forgotten about after a complete defensive collapse. Hogan is there for the important moments and he can take chances easily when they get laid on a plate. Scoring on the wrong end of home defeats to Barnsley and Bournemouth, all Hogan needs is another one of those deliveries from the flanks and you wouldn't bank on him missing on home territory.
There was more energy in midfield, more purpose. Rekeem Harper is someone who will improve his match fitness as the weeks wear on, but his composure in midfield is what Blues needed, not forgetting that both teams opened the game up frantically, not knowing who to pass to or where to go. But as teammates started to see Harper's solidity sitting in front of the back four, it allowed those around him to flourish, without needing to worry even a tiny bit.
Gary Gardner felt the full benefits of Harper's work, released from the shackles and able to drive into Wednesday's area. Blues have needed that extra player in the box, especially with Hogan finding himself isolated in many games this season and with that link between Hogan and Gardner, you could feel Blues' dominance increase.
Harper's discipline in front of the back four meant that Pedersen could bombard his way down the left. He was possessed, a man on a mission, waiting to release himself. Pedersen has not been quite himself this season, but a player who likes to attack will only want to attack when he and others around him can trust the man sitting in front of the defence. This is probably one of the reasons why many of the players, in terms of attacking influence, have been unable to flourish this season.
You had Kieftenbeld breaking up play at will, which gave us the springboard for the victory at Middlesbrough, but you feel that with Ivan Sunjic making way, that Karanka sees Harper in the deepest lying role. As Harper improves more, then the linkage between defence and attack will improve. The problem is that at home, with Blues needing to force the play, they haven't really had anyone who is able to spray passes around. But with the growing introduction of Harper in the team, there could be a solution to Blues's problems at St Andrew's.
A game against Norwich could be the perfect chance for Blues to dispel their worrying home form, but Karanka must remind himself that he has a long way to go before he can say he has rectified Blues' problems. After the win against Middlesbrough, Blues went on a run of six games without victory and another six games without victory could put the club seriously in danger. And there's not enough time for these wins to come in isolation again.
Lady luck is not on the club's side when it comes to Tuesday's home game, and Blues might just need something to go their way. When you're in a scrap, you need something to happen and Liam Shaw's sending off paved the way for something to go in our favour.
---
---