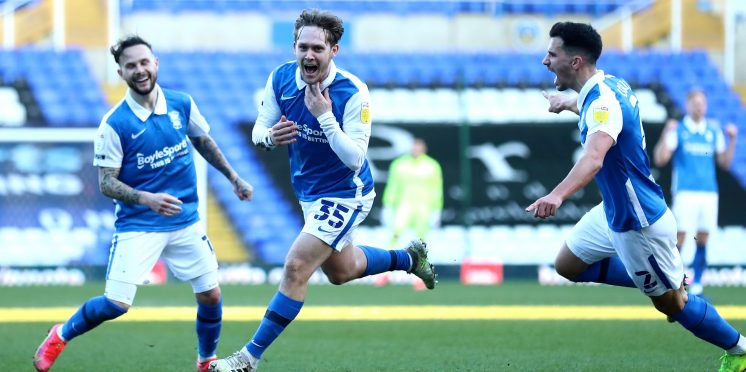 Blues get out of their home rut in fine style
Only recently was Aitor Karanka staring down the barrel of being firmly entrenched in a rut. But he managed to clutch victory yesterday against a Queens Park Rangers side, who on the stroke of half-time sent familiar shockwaves down the Blues fans.
With Austin volleying in from close range to give Blues the lead, it all felt familiar. But even everything that has happened to the club in the past ten years since their League Cup trophy win, there is still life in the club and there always will be.
As long as Karanka sticks to his principles, but also gives his attacking players a chance to shine, then the rewards will be reaped. And Karanka will not have expected Marc Roberts to be crossing in from the left wing for Kristian Pedersen to head in the equaliser, but Blues went for the victory and the play from Roberts on that flank was a way of showing that the players are more than the system.
Karanka decided to go for the jugular and took more risks. Without risks, there can be no reward. And when the batch of subs included Alen Halilovic, there was life in the final hour. Halilovic brought craft in the attacking midfield role, which seemed like it had been missing for a while. Whenever Halilovic has come on for a cameo, he has always looked bright and has allowed those in front of him to thrive.
A brave move from Karanka who knew that he had to put everything on the line. Halilovic has given Blues fans some much-needed hope for the future. A player who has also given hope for himself. Dubbed the next big thing a few years ago, but hasn't managed to kick on since then. And with Karanka giving him a word or two in the week, it seems that Halilovic is ready to put his head down.
If Karanka is able to mould Halilovic into the talent he knows he can be, then we will see a player and a half. With former players in Fran Villalba and Jota not being able to thrive at St Andrews due to attitude and determination, it feels like Halilovic has found a manager who can get the best out of him. It feels as if the two will be able to work together and with Halilovic slowly edging towards a starting place, you get the feeling that Karanka has to be here for the long-term as Halilovic needs a steady environment in which he can thrive.
The best players in your team need that stability at the club, and with Halilovic having been around so many clubs, this is his chance to finally settle down.
And the club managed to escape the wrath of its poor home record. On any other day, you would have banked on QPR taking all three points in the second half, but Karanka is learning that substitutions are vital in a league which hinges on moments. And with Sheffield Wednesday surrendering a two-goal lead to Luton, Halilovic's curling effort was worth the wait.
And with the poor home record finally met with a response by the players, it feels like Karanka and the players are sorting themselves out. Success will take a while, but football is all about moments, and the club will remember the day that two quick late goals engineered a comeback that saw them out of the bottom three.
Kristian Pedersen has engineered a great run of form out of himself, looking like the left-back that we know he can be. Marauding down the left flank and popping up in the box to score the equaliser, it was what the fans wanted. More desire to take the game to the opposition on home territory, territory which has not served the players well this season. Again, without Roberts and Pedersen getting forward for that eventual equaliser, there would have been no goal, but Karanka released the shackles off both of them.
With it being ten years since Blues' trophy success, it felt about right for Blues to top the 27th February 2021 with a Blues like victory, Halilovic unleashing his top, feeling the weight off his shoulders. This club goes on, and the next ten years will definitely be a ride.
---
---