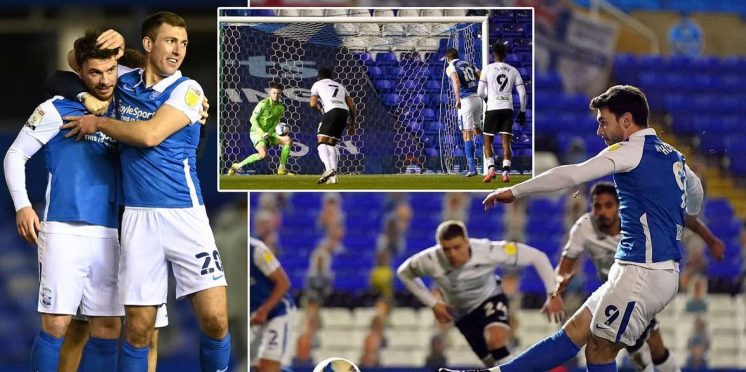 A new dawn could await. Bowyer might be our long-awaited love story
St Andrew's mirrored bleakness and horror when Lee Bowyer stepped inside The Second City club. But he has now ticked another box after last night's fully deserved victory against promotion contenders Swansea City.
His reputation is only going to increase as he quietly goes about rebuilding these sets of players. It's like night and day when you watch Blues going toe to toe with one of the best defences in the league, compared to when Blues were toiling on heavy pitches at home against relegation threatened sides barely laying a glove on the opposition net.
Bowyer understands the DNA and ethos at the club, so there was probably no doubting that he could make an impact at The Blues. He's one of our own and despite other media outlets questioning his appointment, even people outside will realise why The Blues fan base were chomping at the bit when they knew he would be coming.
Bowyer is keeping it simple, like tactics were when he was playing. Putting players in the right position and as a result, getting the best out of them. It was easy for Bowyer to notice the problems of why players were underperforming and failing to obey tactical instructions. The players are warming to Bowyer's ethos and fighting attitude and it was clear that they needed him.
Bowyer is making his team believe that they can play against anyone in the league. Pressing high and winning tackles in the middle of the park. It says a lot about Karanka's current reputation that he wasn't able to spot the squad's strengths, but certain managers fit certain clubs and it needed the sacking of a promotion-winning manager to get the man we probably needed a few years back.
Because now, it feels like the old Blues is coming back. It now feels like the terraces are waiting to be attended to. It feels like with every movement in the press and every tackle by the colossus that Harlee Dean is turning into needs the support and roar of The Blues fan base.
And with every point or win gained for Bowyer, the more foolish Dong will look and the more untenable his position will become. Because he knows that he has a man on his hands that will do everything in his power to keep the tide turning and the ship perfectly in motion. And these moments are priceless for us. The moment when Blues were awarded a second penalty and were able to take one more step in saying goodbye to the demons that have been surrounding St Andrew's for too long.
These moments represent the good forces that are beginning to oversee the club. Small steps are vital to success, but in just three games, it feels as if we've taken a big step under Bowyer. Dong's prescense will begin to fade and he'll be left to chew on his actions. Dong probably never wanted it to come to this and it is ironic that his appointment of a promotion-winning manager turned out to be a disaster and actually paved the way for a possible new dawn. Dong thought there couldn't be a new dawn but he may be wrong for once.
It's difficult to predict anything with Blues, but there is genuine hope now. Even when Lukas Jutkiewicz dampened the mood slightly with his missed spot-kick, there was always going to be another key moment, because when a team that wants a win plays like it really does, then you will always have a chance.
There are limitations in the squad for sure, but Bowyer is gradually limiting these limitations, because he knows that the players became too limited under Karanka. There is no denying that there could be players leaving this summer, but with the right manager most things can be done with a player.
Lockdown is slowly opening up and the players are slowly opening up as well. Released from the tension of a relegation battle. You would never have thought they were in one. They were made to think they were by Karanka but Bowyer regards these players highly. And that's how Bowyer will do his business.
---
---