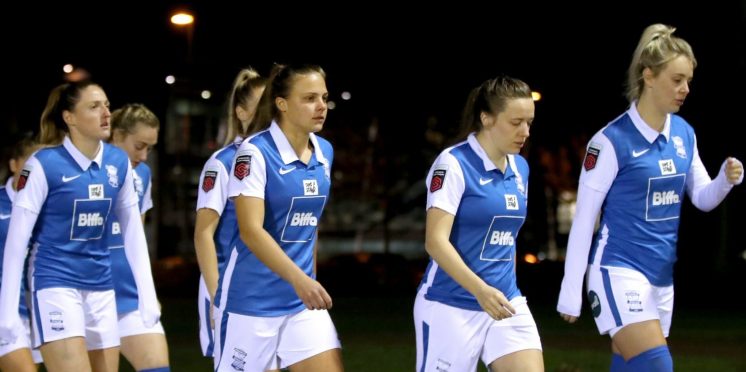 "Utterly shameful" Fans react as shocking news about BCFC Women's emerges
A Sky Sports News snippet has emerged on social media of Women's football reporter Shebahn Aherne revealing some very shocking issues that have unfolded over the past few weeks in regards to Birmingham City Women's.
From players getting paid below the minimum wage, to the facilities in dire need of repair, concerns over injury treatment, lack of doctors on away trips, the players having to bring their own equipment in for their gym, and poor pitches they are having to train on, fans have aired their disgust as even more fingers are pointed at Dong Ren.
But that's not the worst of it. With Blues Women in the middle of a relegation battle, the board agreed to give away 3 points to Tottenham, who are below Blues in the table, rather than fulfil the fixture.
A letter has been written and signed by every single player of the team to air their frustrations towards the board in hope of much-needed change. The club said they are "doing their best in a very difficult time for football."
This news comes after numerous protests from fans of the men's first team towards the current CEO of the club Dong Ren. A banner was flown above Vicarage Road last month, a display van was driven around Birmingham with messages on, and also several 'Dong Out' posters have been popping up in and around Digbeth in the City centre in a bid to gain further media attention and get the current owners out of the football club.
Many Blues fans have tonight aired their disgust at what is happening to the Women's team after watching the short interview:
Twitter: The women's game has come a long way… then you hear what's happening within the @BCFCwomen camp. Hopefully the bo… https://t.co/QHZpqW1SXF (@shebahn)
Here's what Blues fans have had to say:
Twitter: Our players deserve better!

#OneClubEthos #BCFC #Equality https://t.co/cHNNtcMCMH (@BluesWomenSG)
Twitter: @shebahn @BCFCwomen @BarclaysFAWSL Sadly the owners are destroying the mens team too but this is disgraceful in reg… https://t.co/FNXdycA1Hs (@1875_KRO)
Twitter: Add it to the list. Absolute disgrace this board and ownership. The Academy, the stadium sale, the women's team. Th… https://t.co/UgDUjy2AMe (@DominicR26)
Twitter: Absolute shambles. Get out of our club. #Dongout #bcfc https://t.co/ikSmIx0Tfu (@Jordan4mk2)
Twitter: This is absolutely shameful. Utterly, utterly shameful. Genuinely at a loss as to what to say

The worst part about… https://t.co/aOWZ4rhjMs (@blues_breakdown)
Twitter: Disgusting from #bcfc board. They must be held to account for this and resign @mPinoe @jessphillips https://t.co/RBmmIzVf6s (@vivacb2)
Twitter: Utterly shameful from the @BCFC board. We know Dong has been incapable of running the mens side but it doesn't stop… https://t.co/IiYhxXIrI9 (@BcfcLegion)
Twitter: Remember club statement in 2019 about the mens, women's, academy "thriving"? Essentially thrown the women under a b… https://t.co/8xhcJF1tjk (@9_Hendo)
Twitter: More evidence of mismanagement #dongout #bcfc https://t.co/qRXHuWrAMb (@Jodfblue)
Twitter: I would say shocking but it isn't the board are running us into the ground, sold the stadium stripping what they ca… https://t.co/V23NzLmdLz (@dewfvader28)
Twitter: Remember when Dong said the women's academy was 'thriving'…

#BCFC https://t.co/5nVCtIKkK3 (@BluesFocus)
Twitter: Well, who could've predicted that?? #bcfc https://t.co/t4unTDNoi3 (@barbs_paul)
To put it politely, it is an absolute shambles what is happening to the club. The women's team should at least have suitable pitches to train on, let alone be paid minimum wage…
We have contacted Birmingham City Women Supporters Group for a comment and they said they are "going to see if the news brings about a change" and "nothing surprises us anymore."
Just another day at Birmingham City Football Club…
---
---