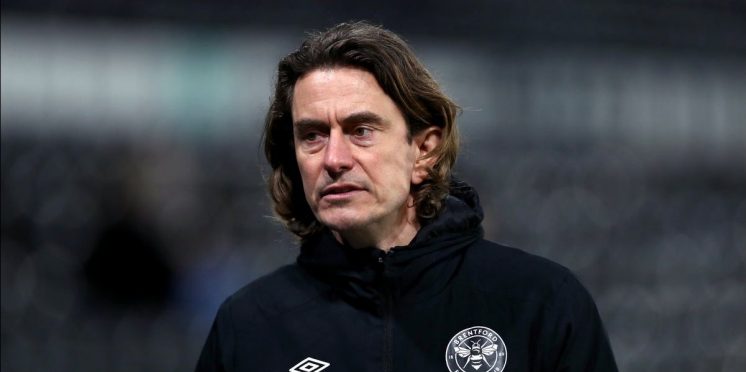 Blues fans react to Brentford boss Thomas Frank's "no disrespect" comment
When you say 'no disrespect' you're about to disrespect someone. That's exactly what Brentford manager Thomas Frank did in his post-match interview.
Lee Bowyer's side were far from 'holding out for a draw' and with chances of their own, Blues could have easily snatched a winner late on.
Here's what the Brentford manager said following the game:
"No disrespect but you understand the strategy from Birmingham, who came for a point."
It's fair to say Blues fans haven't taken his words lightly:
Twitter: @BCFC_News No disrespect but you've failed to beat us twice this season so ssshhhhh (@pjmiff)
Twitter: @BCFC_News Haha he took one point off us this season. F**k off pal… (@dave20581783)
Twitter: @BCFC_News @BrentfordFC no disrespect but tell your gaffer to pipe down, we deserved at least a draw last night an… https://t.co/GBXzUtHtiK (@cole31_dan)
Twitter: @jaymeetee @BCFC_News We spent most of the game in the front foot and picked one of the most attacking line ups we… https://t.co/HTPawNqhCO (@Bluewurst1875)
Twitter: @BCFC_News I swear all this man does is whinge (@jakeholloway__)
Twitter: @BCFC_News Why do we always rattle the Brentford managers https://t.co/cLedsB4En8 (@spiceofflife)
Twitter: @BCFC_News No disrespect but you haven't scored against us this season (@markc_london)
Twitter: @BCFC_News He had a moan when we played them at home!! (@ianwillis_86)
Twitter: @BCFC_News Imagine not scoring against us in 180 minutes of football don't you know pump it up you ain't going up (@Richard_14)
Twitter: @BCFC_News Came for a point but had 7 shots to their 9 https://t.co/bxb7vLVyLF (@samconnolly2901)
Twitter: @BCFC_News We came for a point and got it… and you went for the win and couldnt get it – No disrespect Thomas (@WOLFMAC_)
Twitter: @BCFC_News No disrespect Thomas, but there's no way your boys are going up. (@bcfcjames)
Twitter: @BCFC_News Yea we come for a point, that's why we played 2 up front (@SOTV_KRO_ZW)
Twitter: @BCFC_News Sour grapes you could not score end of and I think with us having 2 strikers does not say a draw to me kro (@Debbie39108932)
A draw was probably a fair result with our keeper Ethers making some very impressive saves but this comment was very salty if you ask me…
---
---