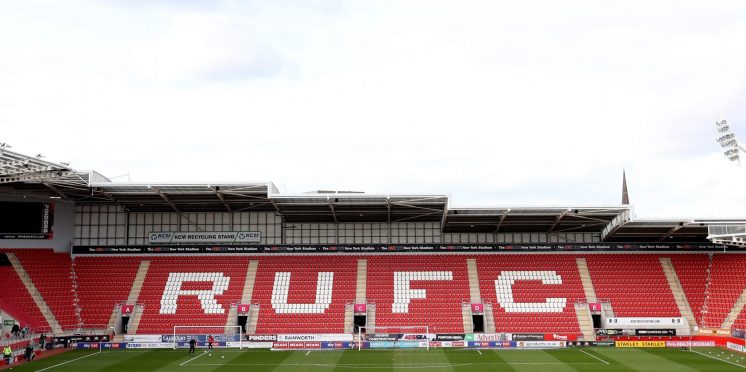 Match Report: Dean snatches late winner vs Millers
Well, surely that is it. Surely we are in a position where we can't go down with 4 games to go. Victory yesterday 9 points clear of the drop and above Derby and Huddersfield. What a job Lee Bowyer has done! Here's how it happened:
First Half:
The first half definitely wasn't the prettiest half of football but you certainly couldn't call it dull. The first half-chance went the way of the hosts after Ladapo turned Pedersen on the edge of the box and his shot went narrowly wide of Etheridge's near post. Blues had a great chance of their own just a few minutes later after Seddon put in a brilliant low-driven cross which Leko was just inches away from turning into the net. Seddon was the centre of attention again after it appeared Wes Harding clipped his boot in the box but the referee deemed it not to be a foul. The game was becoming really end to end and would've been a perfect game for Halilovic had he not been injured with plenty of space to work with all over the pitch. Rotherham had the best chance of the half after Blues sloppily gave it away from a throw-in and Rotherham hit Blues in a devastating counter-attack which ended somehow with an unmarked Richard Wood blasting over from a few yards out. It seemed certain that Rotherham would take the lead and it was like it happened in slow motion as Etheridge turned his head to watch it go over his bar.
All the chances were going Rotherham's way until the end of the half when Wes Harding clipped Leko on the edge of the box. In the end, it was Gardner whose technique was brilliant from the free-kick but the ball just landed on the roof of the net.
Half Time:
Despite a fairly bright start from Blues, Rotherham were the team deserving of the lead at the break. If Blues wanted to win the match they would need to change something second half. You would have had no clue that Rotherham had played 3 games in 7 days prior to the Blues match. Rotherham's corner routines particularly amused me as most of the players took their starting position from outside the box.
Second Half:
Rotherham made a brilliant start to the second half; they did everything right but put the ball in the back of the net. Dean and Pedersen were forced into crucial blocks by efforts from Smith and Wing and after Etheridge missed a cross Gardner was forced to clear off the line. I must admit my heart sunk for a few seconds in case it crossed the line and GLT was going to give it. After somehow not been 3 or 4 goals down after 5 minutes into the second half it appeared Blues had weathered the storm. Sanchez was introduced for McGree and the game seemed to turn on its head for the final 20 minutes. Leko did brilliantly to fool two defenders and after Sanchez took over it seemed as if he might lift a cross up to the back post but it ended up with a corner. Blues almost took the lead late into the game before Johansson quickly reacted to turn his shot behind the post. Finally, it was Blues who took the lead with just 2 minutes to go in a scenario that has become a regular occurrence. The long throw was recycled into the feet of Roberts who put a cross into the box, flicked on by Pedersen and headed in by Dean. Survival surely confirmed.
Full Time:
It wasn't a good performance from Blues, however, at the end of the season results are what matter; not performances. I think even if it had ended as a draw I couldn't see Rotherham, Huddersfield, and Derby all overtaking us. Here's to another season in the Championship and although I feel like I say this every year: let's try not to end up in a relegation battle again. I'm very hopeful for next season. Before Bowyer came in I wasn't confident about survival at all and I wasn't sure if he had enough time to even turn it around but what a job he has done. I hope he gets the backing over the summer if this transfer embargo nonsense is sorted out and I'm now really feeling excitement for next season where the fans will be able to get behind Lee Bowyer's Blues.
KRO!
---
---