A relegation battle that is no more. Kudos to Bowyer and the team
As the full-time whistle blew, it rained on Wayne Rooney and Derby County's dwindling parade. If there was ever a sight to see, a team gracefully ensuring Championship football for next season knowing that they could sit back, relax and watch the drama unfold in the race for survival.
How pleasing was it to see Derby muddled in such a sticky and unprecedented situation? Financial and ownership troubles combined with a mess on the pitch shows us how far The Blues have come away from the uncertainty and darkness that festered over the club. About time it was nice to see other clubs experience the mess we've been through recently.
A sign that there is an air of calm brewing over St Andrew's and after the promises that were made at the start of the season, Bowyer doesn't need to make any, letting results on the pitch do the talking. There is no bad patch yet and it is not certain how bad it might be, but even when his troops put in a first-half performance that so irritatingly reminded us of the whishwash under Aitor Karanka, you got the sense that Bowyer would put in one of those half time team talks. You knew that he wouldn't let it carry on and that his players would turn into predators in the second half.
He forced his team to express themselves in the second half and Bowyer is a man who will force these players to express themselves. He gets what we want and we get what he wants. He's a rarity that might not be ever seen at the club. A favourite who expressed himself at St Andrew's and someone who might leave some positive marks on the club when we look back in the future.
The players weren't going into the second half with a sinking feeling, because Bowyer knew what to do and didn't make it difficult for his team. He needed the players to step up and with that communicated to them, they felt obliged to obey his orders. The players are all buying into what Bowyer is putting across because it isn't complicated and they all knew the benefits of what he was saying in his half-time team talk.
It was never rocket science to get the team doing normal things, but Karanka made it difficult. The squad itself is filled with players who can test themselves to the limits when needed to and that's what Bowyer is trying to do.
We were gone under Karanka, a ship that had already sunk and a ship that couldn't be saved. But Bowyer saved it miraculously and as the club moved up to sixteenth position, it felt all a bit strange. Strange that we had got up to fifty-two points and strange that it would be Derby taking their five straight losses into a crucial relegation battle.
The tables turned in such a short space of time that it seemed almost inconceivable that Bowyer could turn the ship instantly. He came in at such a pivotal period in the club's season and history, but the thing is, Bowyer has been a part of it all at St Andrew's. His playing days were filled with ups and downs, but Bowyer was always able to come out the other side a greater man.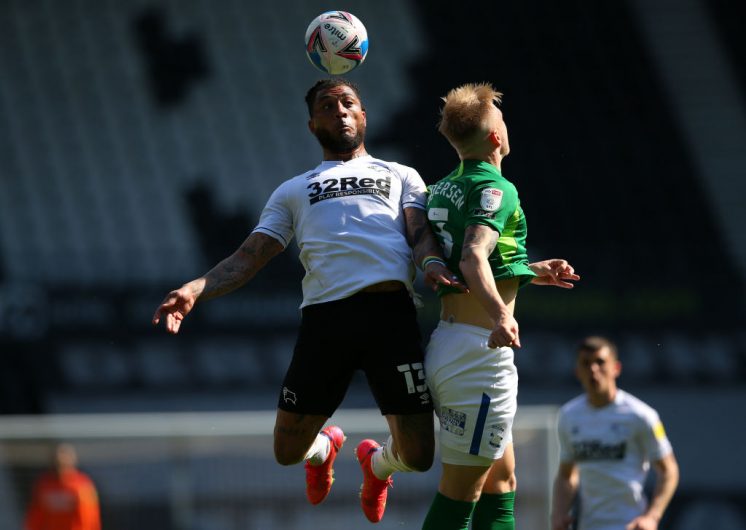 And these players will cherish every moment with Bowyer because he's making them smile more than ever before. Lukas Jutkiewicz is transforming himself into his old self yet again. Even he wouldn't have thought that he'd be pulling up his recent numbers when Karanka was essentially taking no notice of him. Bowyer has made these players believe that there is actually life ahead for this club and that a good future awaits.
Smiles aplenty as Jutkiewicz and Bowyer exchanged laughs. Amazing to see Bowyer's man-management but also his ability to act as the father figure. He knew what it meant to Jutkiewicz when he got that double and Jutkiewicz knew what it meant to Bowyer.
Let's enjoy this moment of calm and this end to the season because we haven't been able to relax and watch the dread unfold at the bottom of the table. Kudos to Bowyer and the team.
YouTube: Final Whistle Reaction – Derby County 1-2 Birmingham City w/Brandon Amess
---
---