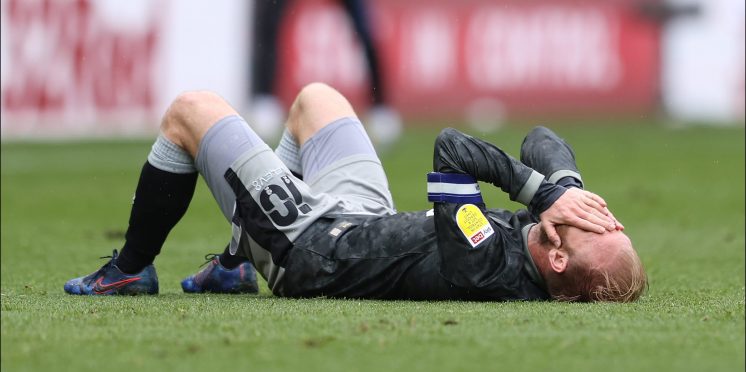 A safe end to the season. A lot calmer here than up north
After the tense drama that unfolded in Derby and Cardiff, it was just good to know that we were getting a breather in the last two games. And it was good to know that Championship football would be continuing under the steady guide of Lee Bowyer.
Two months ago, it was Birmingham City that were falling off a cliff and they were looking over their shoulders desperately. But the turnaround happened quickly before Sheffield Wednesday and Rotherham had time to blink.
Wednesday's decline is unimaginable, but a club who were put under a points deduction were only going to go one way if things didn't improve quickly. And the thing is, Blues have already faced points deductions and the threat of financial collapse, but we managed to see through it. No thanks to anyone, but we managed to, and seeing Wednesday fall as they have done this season, makes us think that there is actually a lot worse happening in Yorkshire.
Wednesday have felt the full brunt of their punishment, but we have been able to escape. It's just a sign that things could be getting better at St Andrew's. Craig Gardner and Lee Bowyer we both know them. Trustworthy figures who know the club's fabric inside out and won't fail to underestimate it. Two men working side by side, a close relationship at the heart of the club. But at Wednesday, you find politics like no other. The drama surrounding Tony Pulis who came and went in a flash. Four managers in a season, so who can really be shocked at their relegation?
We can learn from Wednesday's situation and know that stability is key to anything good happening. The club can't be run as a basket case, but Blues pressed the reset button at the right time. Bowyer came in and reset the squad. Lukas Jutkiewicz became possessed, Harlee Dean reignited his self-belief and the core of the team had shaped itself back. The club can only continue to move forward. This is the first promising end to a season in a long time and we can only forget what preceded Bowyer's arrival.
Barry Bannan is heading into League One and the thought of Ivan Sanchez and Jeremie Bela playing football in the third tier next season would have been unthinkable and scary to say the least.
Supporters will be wild when they return to St Andrew's knowing that there are things to be jolly about. A boss who is getting his players to run through a brick wall for him and a boss who already has credit in the bank. A nine-point gap ahead of the bottom three and the situation going into next season looks a lot healthier.
More fans will want to see Bowyer and the lads and crowds will deliver. More money sent to the club and a chance for the fans to give back to Bowyer and the team. The fans have been apart from the games for over a year and so much has changed that we never got to see Aitor Karanka. Glad that we didn't. And then we have Wednesday who haven't been able to see any of their four bosses this campaign. A club that are dripped in soullessness but Blues have managed to reignite their soul through the appointment of Bowyer.
It's not certain whether a new dawn awaits yet, but it's safe to say that we are safe in the hands of Bowyer next season. It doesn't feel like there could be anyone else we would be comfortable with being our manager. Bowyer has puzzles to fix in the summer, in terms of incomings and outgoing, but he has already started on this mission.
He wanted Blues to be safe as early as possible so he could use the last two games to assess the fringe players. How convenient that Bowyer made the two months to the end of the season work for him so smoothly. The rebuilding and turnover of players is already starting under Bowyer, but up north in Yorkshire, a massive rebuilding awaits as Sheffield Wednesday join a host of big clubs who are stuck in League One. You would've thought after all the relegation dogfights that Blues would be experiencing relegation, but Wednesday did enough damage to themselves this season that the writing was on the wall from the start of the campaign.
---
---