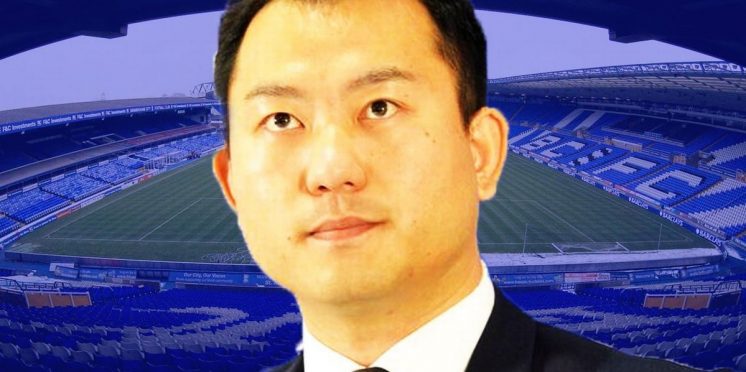 "Get the beers in" Blues fans react as Dong Ren resigns as CEO
As the sun broke through the clouds this Tuesday lunchtime and so did the news of Blues CEO Xuandong Ren resigning from his post.
As expected, many Blues fans are overjoyed with the news online:
Twitter: Get the beers in and get out…

#bcfc https://t.co/pNr6Nz4BH8 (@9_Hendo)
Twitter: Good riddance. #bcfc https://t.co/53nBQCb4xk (@danspencerddd)
Twitter: #BCFC I COULD CRY https://t.co/eJvT46VX5p https://t.co/0I0cx0pxTS (@TimSenna)
Twitter: YESSSS Get in lads! Finally onwards and upwards #bcfc https://t.co/rUG9JBIVE8 (@_LukeStokes_)
Twitter: #BCFC He's gone.. this is the best news we've had in such a long time. #KRO Hopefully this is the start of the club… https://t.co/vMtlpXcwaG (@ESONEULB)
Twitter: WHAYYYYYYY LET'S ALL HAVE A DISCOOO LET'S ALL HAVE A DISCO!!!

Now time for a footballing person to take charge.… https://t.co/cr1BzNthMx (@Matt_J1875)
Twitter: The best news for the club in a long time!! @BCFC please make sure that his replacement is more suitable with more… https://t.co/iKwJVLvao6 (@emo_bcfc)
Twitter: Good riddance!

Xuandong Ren is genuinely the worst appointment in Birmingham City's history. Everything he touched… https://t.co/4fM6omINYO (@MidFC75)
Twitter: Ding dong the witch is dead #bcfc https://t.co/D5BbtMNUzC https://t.co/xizMy1s6NA (@GeorgiaEH17)
Twitter: See ya Dong.

You won't be missed #bcfc. (@DB30Something)
Twitter: Brilliant NewsHopefully now With Bowyer In Charge and MAYBE Someone Who Understands Football above him we MAY hav… https://t.co/ziJXVSWGlp (@WarwickBluenose)
Twitter: Today feels like Christmas day. It may be a snippet, but I feel I got a portion of my club back with those three li… https://t.co/6guP13Dd5Z (@Duality_90_)
Twitter: #blues have finally got their #dong out!! #birminghamcity #bcfc (@RichDmoon)
Twitter: Don't let the door hit you on the way out! Really hope we can move on now! #bcfc https://t.co/wWqFhqCO8W (@Official_Kimber)
Twitter: Blues fans will rejoice this day for evermore. Now can we please have a CEO that understands what our fans want and… https://t.co/UUbqa784fM (@TIMjohnANDREWS)
Twitter: Happy days!! Just hope they appoint someone decent (or Zhao to do day to day running) and get a decent DoF in as we… https://t.co/2ZbGVvzQJD (@Jak_Collier)
Twitter: About time #bcfc #KRO https://t.co/89xb0tj5hr https://t.co/vxJXd53tHS (@Danpinkbcfc)
Twitter: Leave your peaky blinder hat on the desk you absolute fraud.
#bcfc https://t.co/T0y57fCLUT (@iamjbohemia)
Twitter: What a day!! Up the Blues!! Up the Bowyer!! #KRO #BCFC (@BcfcMichael)
Twitter: And he's outta there!!!

#BCFC https://t.co/3FRZIKL2Zw (@BluesFocus)
Twitter: Excellent news about Dong. Next appointment is so crucial. Someone who knows how to run a club and someone who know… https://t.co/nuUyZCIQke (@TalhaMi55331907)
Twitter: Finally some good news! #BCFC #KRO https://t.co/TsaN7CrME2 (@Raouf_B9)
Dong was very nearly the man responsible for our downfall as League One loomed under Karanka. However, the powers that be above him took abrasive action and appointed Lee Bowyer.
A massive turnaround then took place and Blues secured Championship status with two games to spare, no thanks to Dong. Hopefully, now the club can kick on from here and a sensible appointment is made. Keep Right On!
---
---