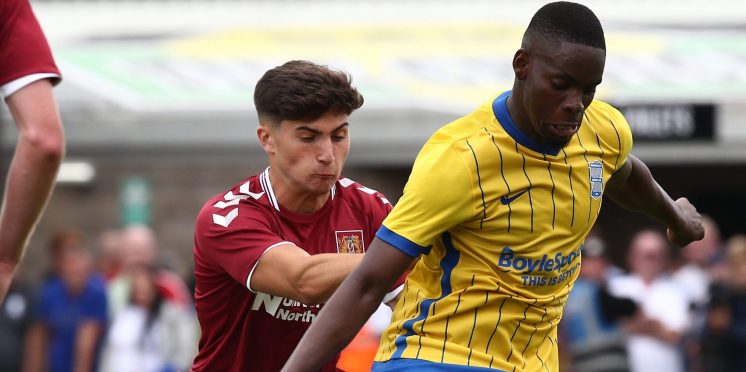 Another gruelling season to come, but there will surely be excitement
Pre-season is never about results. It never will be. But Saturday afternoon's trip to Northampton Town was special for other reasons. Blues fans back and back like they were yearning to be back for the past eighteen months.
The constant renditions of Keep Right On were sending chills down spines and you'd almost forgotten that Blues had player a stinker in a five-goal defeat. Football is nothing without the fans and yesterday's trip made us feel like football was back with a bang.
And those fans kept on chanting because they knew that the result did not matter one bit. Even Lee Bowyer came out saying that the game was a chance to see what players could blend together. All the work is going on behind the scenes as Blues look to escape the trials and tribulations of the Championship.
YouTube: FOOTBALL IS BACK!!! | Northampton Town 3-2 Birmingham City | Blues Focus Matchday Vlogs
The Blues faithful know that there is a lot to be happy about. Only slightly up north are we seeing a threadbare Derby County side struggling to get a starting eleven together with less than two weeks of the season to go, having only two years ago reached the Championship play-off final.
There are still things to fix at St Andrew's and not everything can be fixed, but Blues fans deserve to enjoy these next couple of weeks where they can savour just being in the football ground and make up lost time.
The place will be bouncing when Blues play host to Stoke City very soon and most supporters will only start to be getting used to being back in the stands. The delirium of The Kop hasn't been felt since Pep Clotet saw his reign dwindling and the sight of Lee Bowyer and his underrated work will only get The Kop singing from the rooftops even more.
The activity in the transfer market is boding well for the club. Not many clubs are making headway in the market and even though it is a buyer's market, many clubs seem to be reserving any cash they have. With several clubs placed under a transfer embargo, it does make sense for clubs to be cautious in this league as we've seen what has happened to Derby.
But with Dong's ineffective presence shifted out, there is good reason to think that we can be optimistic. It's clear that the events of the last eighteen months have had a profound effect on football, but it has lived and our club has lived even if it felt like it was hanging on the edge of a cliff at times.
Blues have an advantage over many other clubs in the league. Scope to improve their squad whilst saying goodbye to some of their fringe players. Steve Seddon has never seriously engineered a career path at St Andrew's but a possible successor at left-back has now been forced to find a path elsewhere. Tough decisions are what make a club stronger and with Blues aiming to go one step further in improving their academy, it's to flesh out youth set-up so that more can make the step-up.
Lee Bowyer is now trying to build a squad his own way. With seven new additions, Bowyer might not stop there. The rebuilding starts now because it had to at some point. The fact that Dong no longer exists here gives the good people at Blues the breathing space they need.
There is no need for doom and gloom in pre-season. The anticipation ahead of the start of the season is something we should all cherish because most of us haven't stepped inside a ground for eighteen months. People scrambled for season tickets knowing that there would be something to shout about this season. With Dong at the back of our minds and not really a topic for conversation, it shows how much progress we've made in the last couple of months.
The goalkeeping situation could go one way or another in the next couple of weeks, depending on Neil Etheridge's health. But football should take some perspective because at the end of the day we are all in it together. And if whoever needs to come in comes in, then support is essential. Because we only get stronger together.
YouTube: FOOTBALL IS BACK!!! | Northampton Town 3-2 Birmingham City | Blues Focus Matchday Vlogs
---
---