Match Report: Disciplined performance gives Blues the win over Blades
What a start to the new season! No matter the result today, I have no doubt fans would have been happy after being able to get behind their players for the first competitive match with fans since football was brought to a halt by the pandemic, but an away win puts the icing on the cake.
It was by no means an easy game; facing a side who kept most of their players after relegation from the Premier League, however, Blues put in a proper away performance, got the goal, and managed the game brilliantly. Here's how it happened:
First Half:
Eyebrows were raised ahead of kick-off as it seemed Blues would be playing a 4-4-2, instead, however, Blues adopted a back 5 for most of the game with Pedersen joining Dean and Roberts in central defence while Bela and Colin were given license to go forward as wing-backs.
Blues were on the front foot straight away as McGoldrick fouled Jukey seconds after kick-off. Roberts flicked on the ball for Tahith Chong to lash a fierce shot into a Blade's defender. It wouldn't be the last time Chong would make a mark on the game as he would prove to be all over the pitch until he was substituted. The hosts were dominating possession but not doing much with it as both sides were looking to stretch defences with long balls forward.
Despite all of their possession, it would be Blues who would break the deadlock. From the left wing Bela put in a brilliant floated cross into the box and to the surprise of the Blades' defence, Colin had ghosted into the box to plant a pinpoint header past Ramsdale. Sheffield United quickly responded with a chance of their own as Berge brought the ball forward and Sarkic was relieved to see Burke's shot come crashing off the near post and finding a Blue shirt. Blues wouldn't be troubled much more before half-time apart from a corner that was mishandled by Sarkic, however, he was able to make amends and gather the ball before United could cause any danger.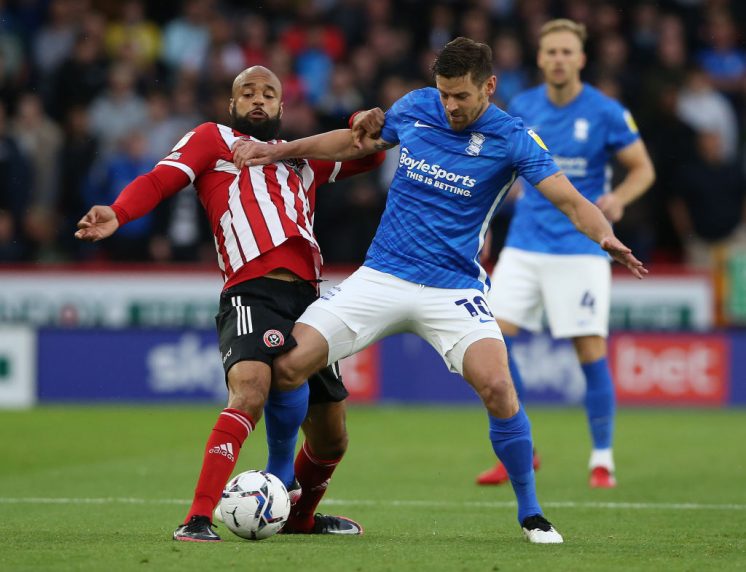 Half-Time:
It wasn't the most exciting half to watch in terms of chances created, however, it was a very disciplined performance from every player on the pitch. I was surprised by the directness of the Blades as Jokanovic's teams normally pass the ball around on the floor, however, the Blades were playing plenty of forward balls to try and penetrate the back 5 who for the most part stood firm and on the few occasions they were beaten, Sarkic was quickly off his line to collect possession.
Every player was doing brilliantly, especially Chong. He was all over the pitch! Left-wing, left-wing-back, right-wing, central midfield. You name the position, he was there. He was putting in some good tackles to get Blues going forward and whenever he lost possession he made sure to make amends and win it back.
Second Half:
Sheffield United seemed to come out with more intent second half as Blues had only completed 4 passes in the first 10 minutes compared to their opponents who had made over 70. The Blades were close to an equaliser as Burke delivered a testing low cross into the box which Sarkic had to intercept to prevent Mousset from having a tap in. The new 'keeper did just that and it proved to be the end of the game for Mousset who pulled his hamstring sliding in towards the ball.
After weathering the storm Blues had a spell of their own where the lead could've easily been extended. The first chance came after Bela managed to get a perfect cross into the box towards Jukey. More often than not the trademark Juke header is powered past the keeper but on this occasion he was inaccurate and Ramsdale was happy to see it head wide. Just minutes later it seemed certain to be 2-0 after Chong teased a ball to Colin at the back post who headed the ball into the net for the second time, unfortunately, the ref had already blown for a foul by Jutkiewicz. The best chance of all probably came after Gardner whipped in a ball which was headed on by Jukey to Hogan who blazed it over from just 2 yards out. In fairness, the ball had bounced quite high.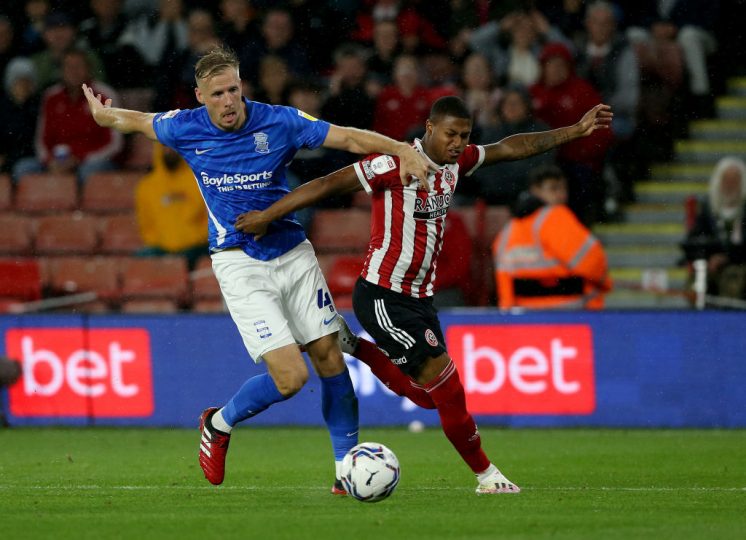 As the game went on, you began to wonder whether Blues would rue those missed chances. Just 4 minutes after Hogan's miss there was a penalty appeal at the other end for handball by Gardner. Luckily for Blues, the ref wasn't interested, although, you have seen them given. Despite having much more of the ball, United weren't creating many clear cut chances and seemed to be pinning their hopes on winning a penalty. Blades fans were furious after a penalty wasn't given against Chong for a tackle on Berge. For me, there was very minimal contact and the ref made the correct call by waving away the protests. Soon after that incident, Chong would feel his hamstring tighten and find himself replaced by Sunjic. What a debut by the Man United loanee and he deservedly picked up the Sky Bet MOTM after full time. Blues were committing many tactical fouls which were frustrating the home side who wanted to be able to play with some flow; by the end of the game, 6 Blues players would've received bookings.
Cometh the 90th minute and there was a feeling of dread as 6 minutes were added on and Sheffield United were beginning to throw the kitchen sink at Blues. McGoldrick tried an ambitious volley from outside the box which was sarcastically cheered by the away support as it flew high and wide. There were some nervy moments towards the end which on another day may have cost Blues. In the final minute Osborne was given too much time to put in a teasing low cross but to Blues relief, nobody was there to tap it in. As we ticked on beyond the 6 added minutes Leko cheaply gave away possession on the edge of the box but he did well to win it back and on the second time he took no chances as it was booted away.
Full Time:
Blues never do it the easy way! It's not a proper Blues away win if you aren't holding onto a one-goal lead with an eternity of stoppage time.
We couldn't have had a better start to the season. When Lee Bowyer first arrived, he said all he asks is that his players can look him in the eye after the game and say they gave their all. They can certainly all do that tonight. Roberts, Dean, and Pedersen were rock solid and made some good blocks and tackles. Colin scored the decisive goal while also making a crucial block down the other end. Ryan Woods was composed on his debut and played the initial pass out to Bela for the first goal as well as taking one for the team by dragging down Sander Berge as he made a threatening run towards the box. The wing-backs and front two worked their socks off pressing United's backline all night. And of course, Chong was a machine, all over the pitch and had real eagerness to get involved with the play. He was very humble in his post-match interview and I think we've got a real good player on our hands.
Tonight though was all about the fans. Right from the off Keep Right On was sung in loud volume for the first time in over a year and it was great to hear some banter between both sets of fans instead of watching the game in silence. Lee Bowyer said he wanted to make us happy tonight and he did just that. If the pandemic taught us anything it's that we can't take nights like this for granted.
Keep Right On, and here's to a brilliant season.
---
---