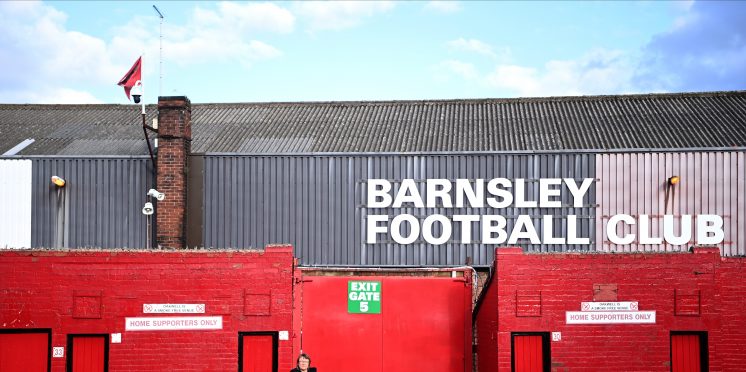 Match Report: Dominant Blues held at Oakwell
Today Blues travelled to Oakwell to try and continue their impressive league form and rise further up the table. Although there was a spirited second-half performance in the Yorkshire sunshine, full of chances by the visitors, Blues were forced to take a point back to the Midlands. Here's my recap of all the action:
Pre-match:
Blues announced today the tragic passing of former player Sam Oji aged just 35. Out of respect, the Blues players all wore black armbands for the match and everyone connected to the club sends their condolences to Oji's family and may he rest in peace.
Blues remained unchanged from their last league game where they thrashed Luton Town playing a 5-3-2 with the onus on Bela and Colin to get forward and spark the attacks.
First Half:
Barnsley got the action underway and just after a minute we got a taste of how Barnsley (and more specifically Kitching) intended to play this afternoon and Jutkiewicz was brought down in the centre circle as Blues looked to go forward. It wouldn't take long before Blues went behind after the backline was caught out by a ball in behind. Initially, Dean did well to get back and intercept the cross in the box, however, his poor clearance led to Barnsley recycling possession outside the box and Styles hit a fine effort past Sarkic into the top corner.
Blues seemed to be struggling to make an impact in the attacking third as Barnsley played an effective pressing game. It was clear that the hosts had done their homework on the threat Tahith Chong provided as it was a common sight to see defenders doubling up on him which reduced his ability to run at the Barnsley defeat with the ball.
Blues came close to the equaliser from a long throw which was flicked on by Pedersen, but, unfortunately, Hogan wasn't able to get any contact to turn it home. It wouldn't be long though until Blues got the equaliser after Roberts put in a testing cross following a long throw which was flicked on by Sunjic and Jukey did excellently to slot it home as defenders tried to crowd him.
Half Time:
Barnsley definitely started the better but as the half went on Blues began to grow into it. It was a half of very few chances, but, we showed good character to get the equaliser after an early setback and the game was very much set up for Blues to take control and grab the winner second half. Bela was finding a lot of space down the left flank and if there was going to be a breakthrough, it was probably going to come from the direct running of Bela down the flank.
Second Half:
Within the first few minutes of the second half, Blues did almost score a goal from Bela's work down the left. Similar to the goal against Sheffield United, Bela put in a cross for Colin at the back post, however, this time the 'keeper was aware of the danger and made sure the Frenchman didn't score.
It wouldn't be long until Blues really began to take the game by the scruff of the neck. Tahith Chong was finally given time to drive forwards with the ball, he got himself just outside the box, however, his shot was just wide, but, a warning to Barnsley about the pressure they were going to face. Hogan had a brilliant chance to put Blues in front after Bela put in an absolutely fantastic cross, but Hogan's header went wide of the post. Had he got it on target it would've surely been 2-1 Blues.
Hogan would get another just 2 minutes later after he was found by a Jutkiewicz flick on but his shot was miscued and not even close to troubling Collins. Probably Hogan's best chance came after Chong played him in behind and he ran through on goal but this time was thwarted by Collins sticking out a leg. It wasn't going to be his day and at the next stoppage, he was replaced by Chuks Aneke.
Aneke was straight into the action after an incident with Kitching in the box. Kitching held his head as if he had been headbutted and the Barnsley fans chanted for Aneke's dismissal. However, Kitching had headbutted Aneke and should've been the only one going off. It was utterly shameful and this kind of behaviour needs to be cut out of our game. The EFL should use this incident to send out a message to every player in the league that this nonsense won't be tolerated by suspending Kitching.
Aneke was to get the biggest chance of the game. After some pinball in the box, the ball found Aneke in a similar position to where he opened his account against Luton but it wasn't to be his day either after his first attempt came off the post, his second was saved and his third was hooked over the bar.
Barnsley managed to take the sting out of Blues in the final minutes as they slowed down the game on their set-pieces. Blues had one final run in added time to try and get the winner but Bela rushed his cross and was nowhere near Jonathon Leko.
Full time:
Blues put in a really good performance second half and were very unlucky not to win. We had far more chances than Barnsley and if someone like Troy Deeney comes into the club, you'd expect some of those to be put away. Having said that I think some of the criticism towards Hogan is a bit harsh. He should score his first chance but the second one is at a difficult angle and the final one is a good save from the 'keeper.
I thought apart from that one lapse in concentration the defence looked very solid again today. Dean showed great character to put his mistake behind him and made some good interceptions as did Roberts, Pedersen, Colin and Bela. The fact that Sarkic had no hard saves to make after the goal is a testament to how well they did.
The midfield also stepped up their game in the second half. It felt in the first half as if Barnsley were getting the upper hand in the midfield battle, however, in the second half, Woods and Sunjic made sure the midfield battle was won and for a period, Barnsley couldn't get out of their half.
It's disappointing not to get all three points and like the Bournemouth game, it does feel a bit like a robbery. But, the performances in both those matches suggest that if Blues do get a proven striker like Deeney, we can expect to finish in the right half of the table.
We now have the international break to recover and get ready for a tough game at St Andrews against Derby who have exceeded everyone's expectations so far this season but with the way Blues are playing, I think we will have enough to get the result.
KRO

---
---