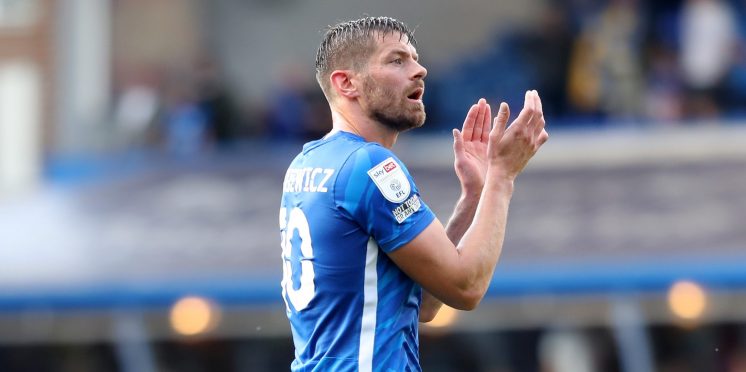 Opinion: Why Lukas Jutkiewicz should be considered a Birmingham City legend
On the 30th of August Blues announced their biggest signing for many years in the form of lifelong Bluenose Troy Deeney. There is no doubt that Deeney walked through the St Andrews entrance door with a pre-existing legendary status due to his voluntary pay cut to join Blues, well-documented love for the club, and reputation as a clinical striker at this level. Presumably once Deeney puts on the Royal Blue and starts banging in the goals his legendary status will just continue to increase in the eyes of Blues fans.
With all the exciting fanfare surrounding Deeney's arrival, another Blues player celebrated a club milestone of 5 years playing for the club a day afterwards which relatively went under the radar due to the excitement of Deeney's arrival. The man I am referring to is our current number 10 big Lukas Jutkiewicz.
During my short lifetime, I've been fortunate enough to witness many great strikers wear the royal blue of Birmingham City, Kevin Phillips and Mikael Forsell being 2 of my personal favourites; however, there is one man who although he may have not have achieved the level of glory as the previous 2 players I mentioned he has been just as important to the club, if not more so.
Jutkiewicz may not be a conventional 'number 9' striker like Forsell or Phillips but still manages to find the crucial goals for Blues when needed. There have been countless occasions where 'Jukey' has stepped up and saved blues in multiple different ways. I cast my mind back to my university days during our baron times under Gianfranco Zola (sorry for reminding you). I went to university in South Wales and went to our away fixture at Cardiff City with some neutral friends, unfortunately, the majority of the game was a slight embarrassment for me showing people their first experience of a Birmingham City match. Just like the majority of our games under Zola; Blues were extremely poor, after conceding to a penalty early in the second half the Blues atmosphere matched the performance on the pitch with an already disgruntled fan base losing patience in the team and I was constantly reiterating to my friends that we are capable of so much more. Cue the 89th minute when Mr Jutkiewicz steps up and rescues a point for Blues with a scrappy but well-deserved goal at which point the blues fans go mental with Blue flares flying in the sky and a loud and beautiful rendition of Keep Right On at which point I was finally proud to show my neutral friends what Birmingham City is all about. However, it wasn't just a great away day that made that goal so important, an unfortunate recurring scenario for Blues in recent years has been last day survival which Blues managed to do that season with Harry Redknapp coming in and steadying the ship but had Jutkiewicz not scored that last-minute equaliser and a winner against Fulham a few weeks earlier (games which were sandwiched between non-stop defeats) Blues would have been relegated and potentially left in financial ruin showing how one man's contribution had potentially saved the club.
That is just one example of Jutkiewicz making a club-saving contribution to the team of which there have been countless other examples of him demonstrating hard work, determination and commitment which has benefited the club. Despite being a warrior on the pitch in which Blues fans can guarantee no matter what the result he will step off the pitch knowing he's given 100% every time he can also be very proud of his contribution off the pitch. Troy Deeney in his initial interview spoke about the importance of fan-player engagement and Lukas Jutkiewicz is a prime example of a player who takes that as seriously as Troy. He befriended a young fan, Bobby who was sadly suffering from a brain tumour and supported him through his courageous battle, after Bobby bravely completed his last chemotherapy session Jutkiewicz presented him and his father with season tickets, a Blues shirt and invited him to join the players at Wast Hills something which the young fan will never forget, again proving what a Blues Legend he is.
I have covered a few examples of why Lukas should be considered a Blues legend but all Blues fans know there are countless other examples of him showing he is more than just a shirt number to the team. He has shown nothing but professionalism, commitment, and respect for the fans during his 5 years at the club even after Aitor Karanka tried to foolishly sell him for the second time in his career. As the next few years go by and Lukas gets older his game time may decrease particularly with Deeney's arrival but it is undoubted that if that does happen he will remain as professional as he has been for the last 5 years and his leadership and hard work will still benefit the team even if he isn't playing. I sincerely hope that he ends his career with Blues and is offered some kind of coaching role with the club as it is rare to find a player that offers his quality's to a club and I could see him being a fantastic striker coach particularly with his natural talent for heading the ball in which watching and learning from him will certainly benefit younger players. So when we are all loving Deeney's exploits there is no doubt Jutkiewicz will be helping the team no matter what his role is. I personally believe and I'm sure most fans will agree with me that he deserves to be considered a Birmingham City legend in the future due to all his huge contributions to the club.
---
---