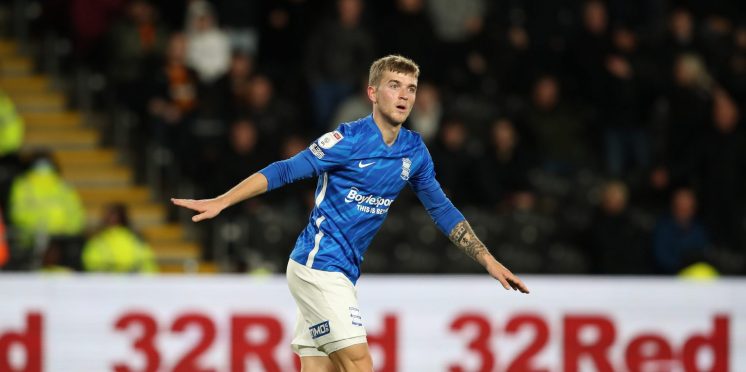 Blues' Aussie architect, and why he's proved Lee Bowyer must keep him
Hopes were high in the summer of 2020, when Riley McGree put pen to paper on a deal with then manager Aitor Karanka's Birmingham city.
Dubbed 'The Scorpion King' after scoring a goal so phenomenal it was nominated for a Puscas award, McGree struggled for game time in a relegation-threatened Blues side, only making 15 appearances, many off the bench, and scoring 1 goal.
Glimpses of quality were clear from the young Australian, but it came as a shock to some when news broke that his loan spell had been extended for another 6 months, ending in the January of 2022. Many assumed the reason being for nothing more than squad depth, seeing the attacking returns of the side the season prior amounted to only 37 goals, the joint second lowest in the division.
YouTube: Best Goal 2018! Incredible Scorpion Kick Goal – A-League SF 2018
Lee Bowyer arrived, however, and despite the prominent form of Manchester United loanee Tahith Chong early in the 2021/2022 season, Mcgree was given his chance to shine in the attacking midfielder role, then making the position his own after the serious injury to the Red Devils youngster.
Riley Mcgree now often looks one of the most gifted players on the pitch after a slow start to life in Birmingham, possessing the ability to retain the ball from opponents much bulkier than the 5′ 10″ man. At times it feels like the Gawler native is toying with defenders, best seen in the 3-0 win vs Bristol City at St Andrews a few weeks ago where he also scored his second goal of the season.
Twitter: Riley McGree vs Bristol City:

3 Shots
1 Goal
2 Key passes
87.5% Pass accuracy
3 Successful dribbles
2 Tackles
1 I… https://t.co/oOS2xOMwVj (@bcfcextra)
Speaking after the 1-0 win against Blackpool, McGree made it clear how much he is enjoying his game currently:
"I'm just loving my football you know" he stated when asked about his sudden rise to being the focal point of the team. "I give everything for this club no matter what position I play in".
McGree has the ability to play as a wing back, as well as a attacking midfielder, which many of Lee Bowyer's men have had to learn in recent weeks due to the injuries of multiple players.
Alongside solid performances for the club, the versatile midfielder has made himself a staple in the Australian National team, making 6 appearances for the Socceroo's'.
"It can be" (taxing) "but I think as a footballer it comes part of the parcel with the job, so I just try to do my best to make sure I recover well and I'm ready whenever I'm needed.
"I'm Australian I'm proud to be Australian and play for the Australian national team, hopefully I can continue to make many more caps and have a good international career in the future".
To many Bluenose' horror, Riley Mcgree must return to parent club Charlotte FC, the newest of a plethora of expansion teams that have joined the MLS over recent years, as he was the clubs second ever signing and to an extent their poster boy.
On his prospects of returning to the second city, Mcgree remained cryptic:
"I think time will tell". "I love English football, time will tell we'll see what happens".
On arrival in Charlotte, a 2-year contract with the option of a third-year will begin for the now 23-year-old, who has without a doubt matured terrifically since his move to England.
"I love playing for this club, I love this club"
Riley revealed to us that he hasn't actually been able to see his family since he moved to Blues, which for a young footballer must be a horrific prospect, his mum, dad, siblings, and girlfriend all missed by Riley since October 2019.
"It's a sacrifice you take as a footballer and hopefully, see them sooner rather than later". "It's completely out of my control, you got to control the controllable and these things you really can't do much about, It's a sacrifice that I've made and I've got to deal with it".
Lee Bowyer has stated that it is out of his control if the Australian stays at Blues.
---
---