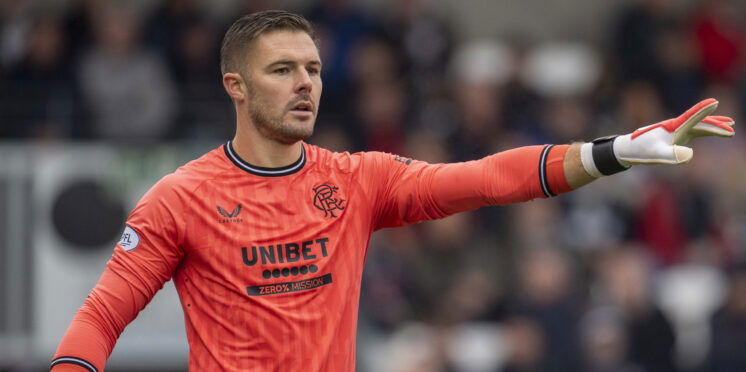 Wayne Rooney eyes Jack Butland as Birmingham City's first transfer target
Less than a week into his new role as Birmingham City manager, Wayne Rooney is already setting his sights on a marquee transfer target to bolster the club's promotion ambitions. According to reports initially published by The Sun, Rooney is keen on bringing Rangers' goalkeeper, Jack Butland, back to his roots at Birmingham City, but the deal won't come without a substantial price tag.
The Manchester United legend and former Derby County and DC United manager is determined to enhance the squad's quality as he and the club's American owners aim to propel Birmingham City back into the Premier League.
Jack Butland, a product of Birmingham's youth academy, made his debut for the club in 2012 and quickly became a key figure in the team, earning the title of Birmingham's Young Player of the Year. However, his journey took him to Stoke City on deadline day in January 2013, after a loan spell back at Birmingham. At Stoke, he made 157 appearances and earned nine caps for the England national team, marking the peak of his career.
Butland's career took a downturn after a move to Crystal Palace, where he made just 10 appearances while serving as a backup goalkeeper. A loan spell at Manchester United further hampered his progress. He was released by Crystal Palace last season, and joined Rangers, where he has rekindled his career, serving as the club's undisputed number one goalkeeper, playing every minute in all competitions.
His success at Rangers caught the attention of former Gers boss Michael Beale, who convinced him to make the move north of the border. Rangers are unwilling to part ways with their star goalkeeper without a significant transfer fee, a potential stumbling block for Birmingham City.
Butland, now 30 years old, would join other goalkeepers at Birmingham City, including 36-year-old John Ruddy and 33-year-old Neil Etheridge, both of whom see their contracts expire in June 2024.
According to The Sun's report, Birmingham City is not only eyeing Butland but also searching for a central defender and a striker to strengthen their squad. However, the club must navigate within the constraints of EFL rules on financial fair play (FFP). The need to be mindful of spending is due to the club's current financial situation, which makes offloading players like Etheridge, who is on significant wages, a priority. Nevertheless, this may have to wait until the end of the season.
Birmingham City faces the challenge of managing their signings carefully in terms of financial outlay until they can offload some of their high-earning players whose contracts will expire at the end of the season. However, the allure of Wayne Rooney managing the club may prove beneficial in attracting quality players, enhancing the club's prospects for a long-awaited promotion to the Premier League.
As the days pass, the Wayne Rooney era at Birmingham City is quickly gaining momentum, and the potential acquisition of Jack Butland could be a pivotal move in their quest for success.
---
---